Maurice Skillern

Military His-Story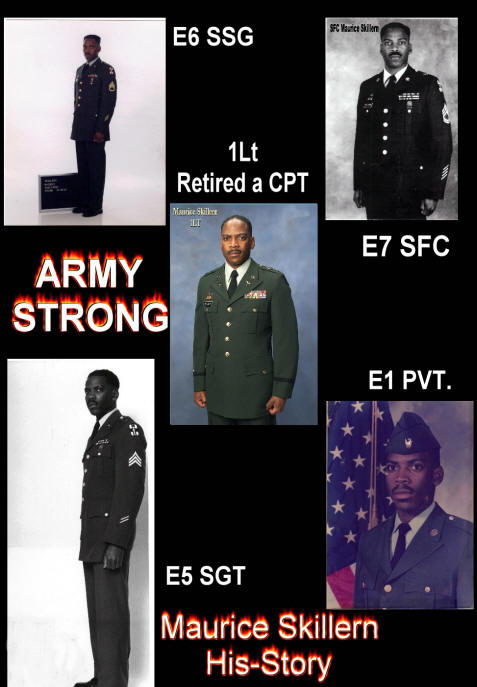 Maurice Skillern started his military career as a Army Medic (91A Combat Medical Specialist). [1985]

Maurice attended Licensed Vocational Nursing School through a military program (Saint Phillips College, San Antonio) and became a LVN (91C Army LVN) [1989-1990]

Maurice was selected and graduated from the prestigious Military Physician Associate (Assistant) course (Interservice Physician's Assistant Program (IPAP)) and became a Physicians Associate (Assistant). [1999 to 2001]

Maurice obtained his Masters in Physician Assistant Studies from the University of Nebraska just before serving in Iraq. [2003]





________________________________________________________


Military Awards

Below are the Awards and Honores that Maurice Skillern recieved
in over 20 years of United States Army Military Service.

Click here to Download PDF

Army Commendation Medal (6 Awards)




Army Achievement Medal (3 Awards)




Army Good Conduct Medal (3 Awards)


Army Reserve Component Achievement Medal (2 Awards)


National Defense Service Medal



Global War on Terrorism Service Medal


Global War on Terrorism Expeditionary Medal


Iraq Campaign Ribbon (pending). Served in Iraq have to go through the process to obtain this medal. "Its all about the paperwork".



Armed Forces Service Medal


Armed Forces Reserve Medal with an "M" device (2 Awards)



Noncommissioned Officer's Professional Development Ribbon with numeral 2





Army Service Ribbon



Army Reserve Component Overseas Training Ribbon


________________________________________________________